Whether you prefer the privacy and security of a private cloud or the flexibility and scalability of a public cloud, we've got you covered.
Private Cloud Transformation
With RISE with SAP, we help you to move your existing SAP systems to the private cloud, where you can enjoy the benefits of increased security, compliance, and control. Our team of experts will work with you to assess your current infrastructure and develop a tailored migration plan, ensuring a smooth and seamless transition to the private cloud.
Public Cloud Transformation
With our expert guidance, we'll help you to choose the best public cloud provider for your specific needs and then help you to move your SAP systems to the cloud, taking care of everything from data migration to ongoing support and maintenance.
Why Is Synozon The Best Partner?​
Optimizing your SAP systems allows you to streamline processes, increase efficiency, and reduce costs.
With SAP's advanced analytics and reporting capabilities, you'll have access to real-time data and insights, allowing you to make informed decisions that drive growth.

Enhanced Customer Experience
With a unified, end-to-end view of your customers, you'll be able to deliver a seamless and personalized customer experience that drives loyalty and growth.
Our team of experts will work with you to plan, execute, and optimize your SAP cloud migration, ensuring a smooth and seamless transition to the cloud.
We offer full-scale implementation services for the Rise with SAP program, helping organizations successfully adopt and utilize the solution.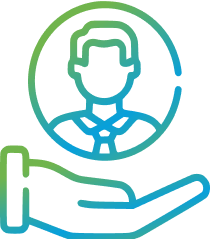 We provide customization services to ensure that the Rise with SAP solution meets each client's unique needs and requirements.

We provide comprehensive training and education services to help clients understand and utilize the full potential of the Rise with SAP solution.

Our experts can assist with integrating SAP solutions with existing systems and processes, ensuring seamless operation.

We offer ongoing support and maintenance services to ensure that SAP solution runs smoothly and efficiently.
As a leading SAP service provider, we help organizations drive digital transformation and create a competitive advantage by implementing solutions.