SAP Human Capital Management
SAP Human Capital Management (HCM) is crucial to your organization's success. The backbone enables you to manage your most valuable asset – your people effectively. With SAP HCM, you can streamline your HR processes, improve efficiency, and drive business results. We are a leading SAP HCM service provider and understand the importance of an effective HR system. That's why we offer a range of services to help you get the most out of SAP HCM.
Why is Synozon the Best Partner
We take a customized approach to each SAP HCM implementation, ensuring that the solution meets each client's unique needs and requirements.
Our team of experts has extensive experience in SAP HCM, providing a deep understanding of the solution and the ability to deliver optimal results.
From implementation to customization, support and maintenance, and training, we offer comprehensive services to ensure the success of your SAP HCM solution.
Our focus on business results ensures that we deliver SAP HCM solutions that drive improved HR processes, efficiency, and overall success.

Our team provides a seamless and customized implementation of SAP HCM, ensuring a smooth transition to the solution.

We provide comprehensive training services to help our clients understand and utilize the full potential of SAP HCM.

We leverage the powerful data analytics capabilities of SAP HCM to deliver valuable insights and drive improved business outcomes.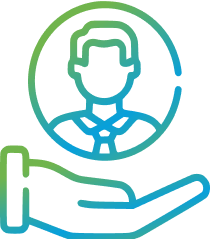 Our experts can customize SAP HCM to meet each client's needs and requirements, ensuring optimal utilization and performance.

Our team provides ongoing support and maintenance services to ensure that SAP HCM runs smoothly and efficiently.
Our team can optimize SAP HCM for mobile use, enabling HR professionals to access and utilize the solution.