We understand the significance of staying ahead in today's constantly evolving business environment. That's why we offer top-notch SAP S/4 HANA services to help organizations like yours transform and thrive.
Our team of experts has years of experience implementing and optimizing SAP S/4 HANA solutions. We will work with you every step of the way to ensure a smooth and seamless transition to the new platform.
Why is Synozon the Best Partner?
SAP S/4 HANA is designed to simplify and streamline business processes, resulting in increased efficiency and productivity.
With SAP S/4 HANA, you'll have access to real-time data, allowing you to make informed decisions.
Improved Customer Experience
Integrating all areas of your business, SAP S/4 HANA can help improve the customer experience, increasing customer satisfaction and loyalty.
With advanced analytics and reporting capabilities, you'll have the insights to make informed, data-driven decisions.

We provide full-scale implementation services for SAP S/4 HANA, ensuring a smooth transition from your current system to the new platform.

We help our clients upgrade their existing SAP systems to S/4 HANA, leveraging the latest features and capabilities for improved efficiency and performance.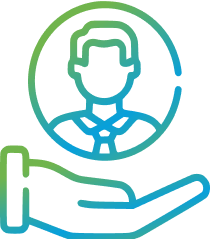 Our team of experts can customize SAP S/4 HANA to meet each client's specific needs and requirements, ensuring optimal utilization and success.

We provide ongoing support and maintenance services to ensure your SAP S/4 HANA system runs smoothly and efficiently.

We can help you migrate your data from legacy systems to SAP S/4 HANA, ensuring the accuracy and completeness of the migration process.

We provide training and education services to help our clients fully understand and utilize their SAP S/4 HANA system, ensuring optimal performance and success.